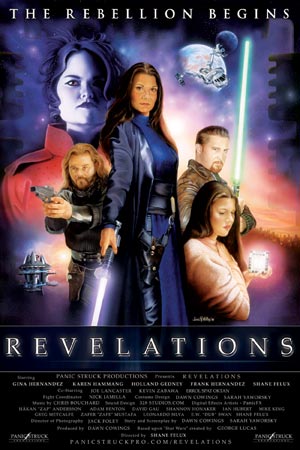 Well, if you've been living under a rock you may not have heard about the newest work of fan film making the rounds in the Star Wars Universe.
Revelations
is a 40 minute film set between Episode III and IV, expanding on the Empire's quest to eliminate the Jedi throughout the universe. The film involved some 200 people and took 3 years to produce. Deffinitely another example of a die hard fan base taking the universe and exploring its possibilities. And i'm sure that many fans would agree, that it would be hard to NOT improve upon the Episode I and II.
The film is available for free in .torrent form with lots of options for the bandwidth impaired. You can get the
Quicktime
, or
Windows Media
versions, which are about 250mb each. If you really want to experience the film from the glory of your home theatre setup, you can download the
DVD ISO
of the movie, and the
Bonus Feature DVD
which are 3.5 and 4.5 GB respectively. Also available if you have an extra DVD case lying around is the
DVD Cover Art
.
It really is amazing what you can do with video/computer equipment with some time and money and a dedicated crew of talented people.
Revelations tells it's story around it's own unique characters and worlds around the Star Wars universe in which the only original star wars characters you will see from the films are, the Emperor, Vader, stormtroopers, and various aliens that makes Star Wars. "Revelations" is very unique in it own way of look and feel, yet still within the Star Wars galaxy. We wanted to make something that was our own and not a simple retelling of Star Wars, or ideas and looks that have been explored before. We tried to make a film with the things and ideas we always wanted to see.
In the end, the script went through roughly 12 revisions by the time you watch it, and some were on the fly as we tightened and tweaked the story we wanted to tell or strengthen characters and deliveries. We think the end result is a fast pace film that takes you for quite a ride. We give a lot of looks for "Revelations" that is very exciting. It's a film we wanted to make in which we do not dummy down the exposition or story, and you really have to pay attention or you will miss things. A lot happens in 40 mins!
Check it out if you have some time...