Well, it has been almost two months since the retail launch of StarWars Galaxies and its already seen quite a bit of change its short 7 weeks of life.
If you might have been living under a rock for the past 3 years or so then you might not know about SWG yet, but to bring you up to speed... StarWars Galaxies is a Massive Multiplayer Online Game which is subscription based (along the lines of Anarchy Online, EverQuest, Asheron's Call, Ultima Online etc). The game takes place between episode IV and V of the origional trilogy and draws deeply from the world of StarWars. It was a joint venture between LucasArts and Sony Online Entertainment. Ok, so not really joint... LucasArts paid SOE to do the work... but LA actually owns everything

Enough chit chat though... lets get down to the
Good
, the
Bad
, and the
UGLY
.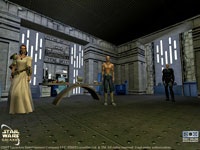 The Good:
Contrary to what you might have heard from your friends online, various message boards around the internet, or your local cybercaffee around town, SWG actually has quite a bit to offer at a reasonable price to boot! SWG breaks its fee into multiple payment options. The further in advance you pay, the cheaper the monthly rate is. Monthly payments are $15. But if you pay for 3 months at a time your down to $14/mo, 6 months is down to $13/mo and 12 months is $12/mo. Thats a steal when you think about getting 30 days worth of entertainment for $15. Hell, I cant get 2 HOURS worth of entertainment for $15 around town.
The graphics of StarWars Galaxies are pretty incredible, if you have the hardware to support it of course. SWG has some of the most customizable character features that I have seen to date. The volume of character tweaks that you can do during character creation are amazing. From modifying eye size, slant, hair color, skin color, fur patter, freckle pattern, jaw size, chin size, nose size, and the list goes on and on and on...
Game audio is practically straight from the films. Blaster fire, monster noise, ambient audio, you name it and its probably from the LucasArts audio vault.
The game worlds are also pretty incredible, both in size and in style. There are 10 planets that are accessable with the retail release (expansions might add more planets later), and each planet is 15 kilometers X 15 kilometers. Thats a whole lotta planet to explore. The planets, like tatooine, that have been featured in the films are very well done. The experience of visiting these worlds is pretty amazing if your a big StarWars fan. You will find many of the familiar areas are included and can be visited at your leisure. The planets that have never been "seen" on film also seem to fit in well with the StarWars Universe. There is no real glaring transition between worlds as far as genre or theme goes.
Gameplay is also quite good. Now, this is a MMO game, so you cant expect combat to be action packed. Like the MMO's that have come before it, SWG combat is little more then click your attack icon, wait, click a special attack, wait, click another special attack, wait etc. Now, if your fighting a Rancor or other high level mob even that can be pretty exciting, but its certianly nothing like Jedi Knight II action. The User Interface is very comprehensive and customizable to boot. You can completely re-arrange the GUI to suite your pleasure. Displays can be customized and moved or removed entirely. There are also all kinds of tools to aid you in your journey included in the player GUI. You have access to ingame email which will allow you to communicate with friends who might be offline, or even if they are online but might be busy or afk at the time. You also have a "Holocron" which can answer most of the basic questions you might have as well as get you in touch with Customer Support if you run into a more serious problem, just make sure you have LOTS of time if you need to reach CSR.
But my favorite feature of the SWG client is the ability to PLAY IN A WINDOW! Now when you have some down time between battles, you can surf the web, check your email, chat on your favorite IM client or whatever else you might need to be doing. Granted, you need to have some heavy hardware to bat with to do multi-tasking while SWG is running. It uses up a lot of resources, but it can be done.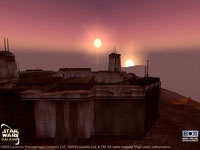 The Bad
As it has been from the beginning, so shall it be with SWG. The wheel that "bitches" the loudest gets the grease. What that means is that there are always a vocal minority that flood the forums of MMO's to cry for changes, nerfs, or what have you. And yes, many times there are balance issues, game mechanics issues, and other features that need to be tweaked after release, but these lamers, flamers, and whiners are never interested in that. They are more interested in stirring up a mob to cry for sweeping changes to things they have little understanding of. They see something, make up the details about what it actually is and then tell other players how horrible it is. This stirs up all sorts of rants which are often unfounded and just serve to start huge flame wars on the forums.
Deffinitely some classes were in need of balance issues, but the problem with this approach is that instead of balancing classes, sweeping, monster changes are made to them and when its all over you often find yourself with a completely useless, broken class that isnt worth playing. Droid Engineer is one class in particular that really got destroyed by changes like this.
Many classes have been broken since the game launched! Droid Engineer, Commando, Bounty Hunter, Bio Engineer and others have had serious issues that are as of yet unresolved. And don't even think about being a Jedi. While I don't think this is a "bad" thing myself, I know many people are (or will be) fit to be tied because they can't create a Jedi. But, if you are feeling lucky, the best thing to do is start a character and play. Through random chance, you might "unlock a force slot" which means you have the ability to create a second character on that server who will be "force sensative". You will have to start from the beginning and advance your character up to a point where you can start a Jedi skill tree. Ohh, and don't forget, if your get your Force Sensative character killed, your dead permanently.
Also slightly annoying is the in game audio. I know this was also in the good section, but listening to the same "cantina" music over and over and over again, gets pretty annoying. And the combat music is the same. It wears thin after a few days worth of playing. Thankfully this can be turned off in the game options.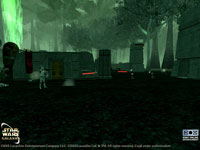 The Ugly
The ugly really only comes down to two things. The community, and the nerfs.
The community at the SWG forums is a disgrace and needs more bleach to save the gene pool then could be thrown at it. The forums are filled with spam from people looking to rant, stir up trouble, or just make up issues to rile up the community with to aid their cries for nerfs of one profession or another. This brings down the mighty nerf bat on class after class, and instead of achieving balance you end up with more broken, unplayable classes etc.
The nerfs that always seem to take place in the early days of a MMO launch are always painful to watch. They are never really about balance and because of the percieved public outcry, they are often extremely far sweeping in their scope. So rather then just fix what might be wrong with a class, many issues are addressed all at once with no apparent comprehension as to how that will actually affect the class afterwards.
While I hold out high hopes for the future of SWG and think that it will acend up the MMO ladder of greatness without much trouble, I do forsee some rough waters ahead. If you are prepared for serious, sweeping changes and don't mind, by all means pick this title up. If your a StarWars freak then you will probably have a blast just exploring the many planets and such. But, if you are looking for a stable, established MMO title in the StarWars universe, then SWG is not for you at this time. The game is just in too much flux right now.