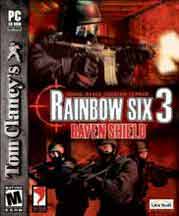 Raven Shield, the most recent addition to the Tom Clancy "Rainbox Six" saga returns us to the world of team based, covert op style first person shooting goodness. Now, before we go any further, I must point out that I am one of the most outspoken critics of Tom Clancy, Rainbow Six, and Red Storm that there are. I have hated every game they have put out prior to 2003. But, I picked up Raven Shield anyway. What can I say... maybe I am a sucker.
Raven Shield takes place in the not so distant future. You are the commander of an elite group of special forces personel who are called upon to save the world from evil terrorist organizations, out to undermine and destroy capitalism and democracy across the globe.
Ok, so that isn't exactly how they pitch it to you on the box. But that is the story in a nutshell, and lets get real for a second here. How many FPS can you name that really required a GOOD story to keep you engrossed in the game? Probably none, and I would hazzard a guess that if the only thing that keeps you playing a particular FPS is the STORY, then the devs didn't do a very good job creating the game in the first place.
But, now I digress. Let us get back to the game at hand!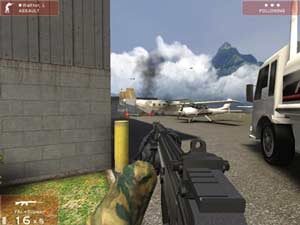 Raven Shield is certianly a step in the right direction for Tom Clancy and the gang over at Red Storm. They actually made a game that is fun to play! The theme/gameplay are basically the same as Ghost Recon, and the other ealier inarnations of Rainbow Six, but the graphics have gotten a huge helping hand. Raven Shield is now built upon the new Unreal engine which takes the visuals to a whole new level. Also included in Raven Shield for the first time in Tom Clancy history (that I can recall anyway) is the ability to see your weapon in first person view. No more running around with a bullseye on your screen with no weapon to speak of. Now you have all the beautiful polygons that make up your favorite assault rifle right there in front of you at all times. I see this as a huge step in the right direction. Ghost Recon, for example, simply felt naked. I couldn't get used to NOT being able to see my weapon!
Raven Shield consists of two playable modes. You have single player and multi-player mode. Under each are a few subcategories. Single players can do the campaign, or you can just pick a map and jump in for a terrorist hunt where you and your squad have to seek out X number of terrorists before the clock runs out, or you and your team get wiped out. Multi-player also has several modes. There is adversarial mode and co-op. Co-op is a blast! It is basically a terrorist hunt, but instead of having computer AI squadmates, other players round out your crew. You can have up to 8 people in a co-op game hunting terrorists. Adversarial multi-player games pit two teams (red v green) against eachother in a battle to the death. During the timed match, each team tries to kill off the other team. Adversarial does support quite a few players 24+ but most servers run at about 24 player max to maintain reasonable performance levels during game play.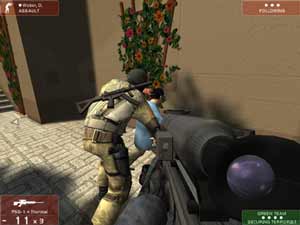 Single player game play still leaves a lot to be desired in my humble opinion. And while Red Storm did take a few large strides in the right direction regarding mission briefings and team AI it still tends to bog down the game play when you are trying to babysit your team, and try to keep them out of harms way. The friendly AI is quite a bit better, but they still tend to get bunched up, get in your way. Thankfully, they do have pretty good aim, and if they come across an enemy that they can see, they will help you out by eliminating the threat. Another downfall of the single player game in my opinion is related to the tactical aspect of the game. I find it just gets really boring after a short while. Slinking around a huge map with computer controlled team mates isn't very exciting, and can borderline on tedious as you try to slink through map after map.
In game audio is now, and has always been outstanding. This has always been a strong suit for Red Storm. They capture environmental audio very well. From the crunching of snow underfoot to the crackle of automatic gunfire in the distance, the sound effects really serve to draw the player into the game. And immersion is everything.
But, if you can find a good multi-player server, and get a few people on a voice chat (TeamSpeak, RogerWilco etc) then it adds a whole new dimension to the game. Slinking around a large map with 40 terrorists waiting to ambush you with 8 friends is a blast. And being able to chat with them on voice to coordinate your movements adds some real excitement to stalking the enemy. Of course, this can also be tedious, because once you get killed, you are out for the rest of the round. And if you get killed early, and are playing with people who can hold their own, you could be looking at 15 minutes of sitting there, watching your team fight for the glory without you. So, if you don't have a healthy dose of patience, this game could have you fired up and in a blind rage in no time.
Down time aside, the muti-player aspect of this game is really a lot of fun. Especially if you can find a good group to play with. The kind that are more interested in playing then trash talking. More interested in team work then showboating. Yeah, I know its hard to find that kind of group to play with, but when you do, it makes playing all the more worthwhile.