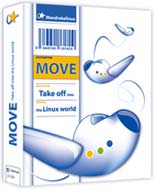 Have you always wanted to try out Linux but were afraid you weren't up to the task? Here's Move, the easiest and safest way to test drive Linux.
Built on the Live-CD technology, Move enables you to run a full operating system from just one CD, anywhere, without the need for installation. Move is truly mobile. This is the only product of its kind to offer built-in handling of USB keys, allowing for automatic and seamless backup of configuration settings, as well as user data, up to 1.5 GB*.
Move features the award-winning Mandrakelinux, widely recognized for its user-friendliness, together with a collection of applications equivalent to or compatible with Microsoft® Windows® software. So there are no more barriers to prevent you from taking off into the Linux world.
This appears to be a retail only release (no ISO download that I can find, but could deffinitely be a great way for someone that wants to give Mandrake a spin without comitting to the full install onto their existing PC platform. You can read about the software suite over at
MandrakeSoft's
website.