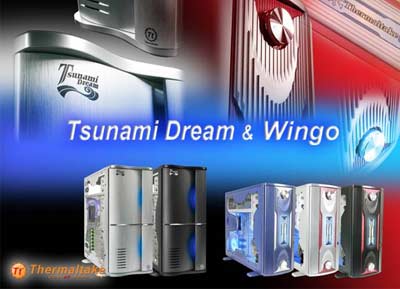 October 2004 - Taipei, Taiwan –

Thermaltake, Inc., takes another step in Delivering Excellent Customer Satisfaction. Thermaltake is proud to introduce the Awards & Review section on its website: www.thermaltake.com/news/review.htm In this section, Thermaltake will post the reviews and awards of its latest products from well-known technology websites and organizations worldwide. By voluntarily sending its new products for critical and independent reviews ahead of public debut, Thermatake ensures its loyalty and that prospective customers will be able to receive the latest and most unbiased product information.

Thermaltake has collected the Chassis reviews and awards for August, 2004. There are 9 reviews below, which 7 received awards for Thermaltake's, Tsunami Dream and WinGo series chassis.

You can get a better look at the full suite of ThermalTake cases at their
website
. Every computer deserves to have a sweet case to live in!