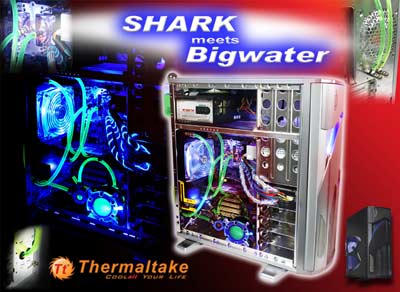 In the recent business of cooler, the water cooler has taken a predominant position for a while. Undoubtedly, Thermaltake Technology, the world's leading thermal solution manufacture and provider, has announced their latest internal liquid cooling system named BigWater. What makes the BigWater so incredible? The core components(radiator、water block and pump) of it can explicate the point that why the BigWater can predominate the mainstream liquid cooler market. On the other hand, Thermaltake Technology also provides the case solution to the experts that are familiar with how well the computer will run in a stable and convenient operating interface. The Shark case series, the whole new products, with high efficient ventilation and multiple input and output ports, create an optimal computing environment whenever the system is overloading.

For creating an excellent system environment, we will install the BigWater into the Shark case to improve further enhance the system's thermal performance, safety and ease-of –use.

Let's take a thoroughgoing look at the three core components including the 12 cm fan radiator and the copper water-block as well as the water pump:

(A. 12 cm fan radiator with the Shark case: The overall design of the radiator can pick up heat generated from the processor then to the radiator for heat dissipation and the BigWater utilizes a design that is similar to car's radiator with pipes passing through layers of aluminum fins stacked together. Besides the Shark case has a 12cm fan in front of the case as well as a 12 cm fan at the rear of the case originally so that if the BigWater is installed into it , the operating interface will have three 12 fans, one is the 12cm fan at the front, another is 12cm fan at the rear and the other is 12cm fan bundled in the BigWater package.

(B. Copper water-block with the Shark case: The pure copper water-block can transfer the heat quickly due to its high conductive property of copper. Because the Shark Case's side panel is honeycomb, you can see the flow and content of water clearly with the blue led. On the other hand, the customers can install the BigWater on the CPU socket of AMD K7 K8 and Intel P4 as well as LGA 775 to apply the function of the BigWater extremely

(C. Water pump with the Shark case: Through the build-in blue LEDs, the customers can check whether the pump unit is operating properly and take action when necessary. In addition to the blue led, the pump operates at nearly silent 20dBA to build a tranquil computing environment.
Ahh, watercooling goodness. Slap this together with a 6800Ultra and PIV EE or AMD FX 939 and the sky's the limit baby!. You can get more details at
ThermalTake's
website.