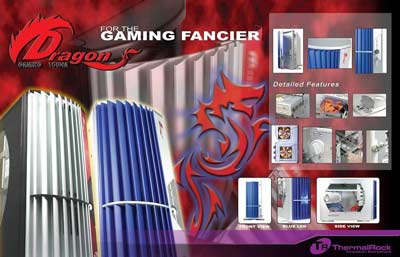 ThermalRock, Inc has announced their all-new, stylish Dragon Gaming Tower. Not only is the Dragon Tower unique but also displays attitude and strength. The most noticeable unique feature about the Dragon Tower is the Dragon shaped door for better protection that will allow to users to have a peace of mind.

ThermalRock, Inc., has allowed the Dragon Gaming Tower to feature a transparent "Oval" type side panel window, retractable foot stand, side panel lock with a three-way front door lock, solid aluminum front door with blue LED lights, and five fans included for newly improved ultimate ventilation.

The Dragon Gaming Tower solution provides a unique thermal technique that contains an 80 mm cooling fan with an air filter in the front, another 80 mm fan that dissipates heat from the CPU on the top of the case, a 90 mm cooling fan for better ventilation, and an additional side covers with dual 90 mm cooling fans.

"With the release of the Dragon Tower, not only will users benefit from its exceptional cooling reliability, but it is also an impressive additive to the artistic side of chassis as well" commented Joseph Lin, Marketing Director at ThermalRock.
More details about this case, and the company available at
ThermalRock's
website. A relative newcomer to the market (in this incarnation at least) with some interesting designs.