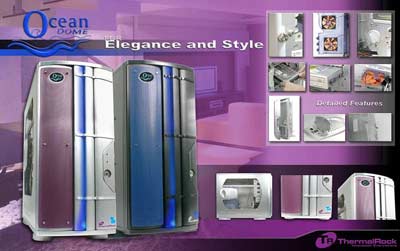 An all-new chassis was announced by ThermalRock, Inc. today has released their "Ocean Dome" line of computer delights. Ocean Dome is built on the unique blend of style and elegance which the chassis portrays itself with serenity and sophistication. The ultra-silent chassis is very trustworthy and reliable and allows the users to fulfill their operating desires.

On top of the state of the art appearance, by utilizing three 90 mm Smart Fan units, which are strategically placed at the rear and on the side up and down parts of the case, for maintaining the chassis's ambient temperature. The two 80 mm Smart Fan units are tactically placed at the top of the case for the fan to dissipate heat from the CPU and the front with an air filter that is able to rapidly flow cool air into the chassis.

The chassis impresses all with its exclusive exchangeable EMI net/Acrylic window for the side panel, reachable dual USB 2.0, IEEE 1394 Firewire, audio & speaker ports built in on top of the chassis for convenience and simplicity, and tool-free sliders for easy and comfortable installment of the 5.25" and 3.25" drive bay.

For the modern lifestyle, the Ocean Dome has many special perks that are apart of this unique case. The extravagant front panel specializes in a solid aluminum door with blue LED lights, created with a stylish wavy door, and visible front panel with three way door lock.
More details and info at
ThermalRock's
site. An interesting case design for sure, but ThermalRock appears to be a newcommer to the scene with equipment that appears to be strikingly similar to ThermalTake designs. With a 2004 © and web counter with 5000 visitors they could be worth keeping an eye on.