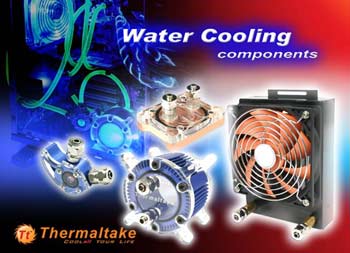 After Thermaltake Technology announces their successful BigWater Cooling System(P/N:CL-W0005), they announces four solitary water cooling components which are CPU waterblock, 12cm radiator, water lever indicator, and flow indicator this month. By use these four new components, users can arrange it for different situation and get whole new water cooling experience.



Regarding to the CPU waterblock, the Copper waterblock with blue LED acrylic
cover shining your CPU and take heat out of the CPU surface. In addition, it also provides universal clips for Intel P4 (LGA 775, Prescott) and AMD (K8, K7), bring more choices for users.



The big radiator has several features such as aluminum fins with adjustable 12cm fan, rotational speed from 1300 to 2800RPM, and the 93.7cm maximum airflow. It is convenient for users to adjust the optimum fan speed, improve the cooling performance, and keep the computer operate smoothly.



Moreover, users can via transparent window of the water level indicator to check the movement of the water. By the indicator, users are able to know if the water is enough to operate the system or not. Also, users can make proper response such as add water to keep water cooling system runs smoothly.



Another critical component is the high quality flow indicator. Users are also able to check the movement of the water via transparent window and make sure the water cooling system runs smoothly. Furthermore, it enhance the convenience to install because of its connection of the indicator is suitable for tubing of 6 to 13mm to inner diameter. The main body was designed like a water drop with blue anodizes treatment. Bring a stylish idea for users.



All of these four components have two sizes (3/8"and 1/2") of quick install connectors. Users can change their tubing depends on their computer's situation without worry about tubing issues.
More info at
ThermalTake.com