Rise of Nations
Big Huge Games / Microsoft Game Studios
Rise of Nations is another foray into the Real Time Strategy genre for Microsoft. Building on the foundation of Age of Empires I & II there is more of the same for history/rts buffs in this title. Granted, its not truly "Historical", but it does revolve around actual civilizations like the Aztec, Rome, China, British, French, etc (18 in all). Each civilization has their own set of bonuses based on their culture. Some enjoy trade bonuses, while others get faster units that cost less to produce. Some of these bonuses can greatly affect the strategy you employ during the game.
The game spans 6000 years, which breaks down into 8 different technology eras. Unlike Empire Earth (which also had a large number of tech eras), players can move relatively quickly through the ages in Rise of Nations. This is a very welcome improvement as it no longer takes a marathon 8 hour session to move through 4 ages in a multiplayer game. The ages are Ancient, Classical, Medieval, Gunpowder, Elnightenment, Industrial, Modern, & Information. Each age has it's own unique feel, but doesn't bog you down in game play because of the relatively smooth/timely transition from one age to another.
Thankfully, unlike other RTS releases recently, the Technology Trees have not been slashed in Rise of Nations. There is a great deal of advancement/research available to many buildings and units throughtout. These are based on your age as well as the level you have attained in the four primary research areas. These are Military (increases population limits and military upgrades), Civic (increases max number of cities and expands national borders), Commerce (increase commerce limit and caravan limits), & Science (decreases cost & time of other research and inreases some units line of sight). To move from one age to the next, each of the 4 primary research areas must be continually upgraded as resources allow. So between upgrading your primary 4 research areas, building your city, upgrading your units, expanding your empire, & defending against/attacking your neighbors there is little down time in this title.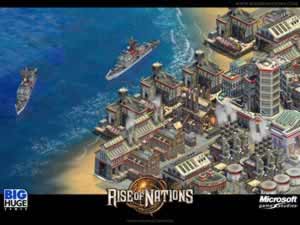 Gameplay is good. Control will come naturally to anyone familiar with RTS across the board. You can use a plethora of hotkeys to quick build units/buildings to save you from clicking to death. And unlike many RTS titles before it, the peasant AI is actually a large step above the working class in other games. If you assign them a task and they complete it, after a short time of inactivity they will wander off and find something to do. Granted, this doesn't always work, but hey, if it only works half the time that is still 50% less peasants you have to worry about!
True to his roots, Brian Reynolds (Lead designer from Civilization II) throws in just a little more "strategy" in this Real Time Strategy game. The game itself plays out across the globe the same way the boardgame RISK does. You start out with an army on the map and you battle your neighbors for control. The battles themselves take place like any RTS game. But between the battles, you work out your strategy on the world map. Building up your empire and consolidating your forces to attack or defend. You can also make alliances with other empires who will not attack you, and will come to your defense if they are nearby when you are attacked.
The graphics are not the best around, but they are not horrible. And in a Real Time Strategy game gameplay still reigns supreme over graphics anyway. As long as you have dynamite gameplay, graphics can play a distant second and most people won't even notice.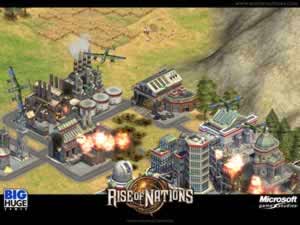 Unfortunately, at the time of my review I was unable to find any acceptable multi-player games to partake in. Being of the opinion that its impossible to enjoy (much less rate) a multi-player experience with a 400+ ping, I opted to abstain. I have heard of issues with LAN games and not being able to connect which will hopefully be addressed in the next patch.
Any RTS fan will likely find this game worth adding to their collection, and if you know an Age of Empires junkie then this is probably right up their alley.