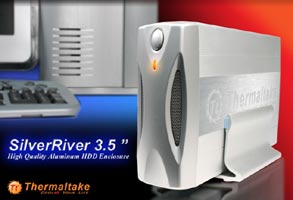 SilverRiver 3.5" compatible with notebook, desktop PCs and MAC. The SilverRiver 3.5"is designed to provide an easy and reliable method of transporting massive amounts of data from one place to another. one of the more important when it comes to function: Stylish Tough Aluminum external enclosure, Excellent Heat-Dissipation. 480Mbps throughput for USB 2.0, Fashion LED status indicators, backup file easily, Hot-swapping capability, Plug and Play.
Check out a SilverRiver review
here
&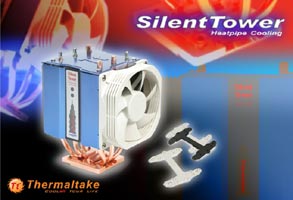 SilentTower is designed to cool the most advanced CPUs today and will also be fully compatible with the highly anticipated Intel Prescott LGA775 processor.
Unlike traditional fan casing where air can only be sucked in from the top, Silent Fan's unique design allows air to be sucked in from several directions to further improve its airflow volume.
In order to be fully compatible with all currently available processors including AMD Athlon XP, Opteron, Athlon 64, Athlon 64 FX and Intel P4 Socket 478 Northwood, Prescott, yet-to-be-released LGA775 Prescott, SilentTower employs a universal clip mechanism.
Read a SilentTower review
here