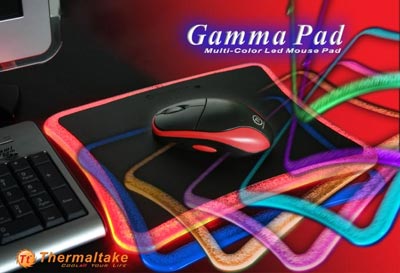 Inspired by the concept of the recent phenomenon, LAN Party has provided many with ideas on improving the gaming environment which most gamers have to live with while attending. Throughout the year, Thermaltake Technology introduced several innovative product geared towards the gamers on-the-go. Today Thermaltake announces the release of Gamma Pad (P/N#A2256), a mouse Pad for ball and optical mouse.

The Gamma Pad has been designed for the hard-core gaming enthusiast. The Large and textured surface, easy to move the mouse around. No batteries required, plugs into a USB port to get the power. The biggest feature of the Gamma Pad is the ability to easily customize the color (Green, Red, Blue, Yellow, Purple, Pink, and Light Blue). Users can easily toggle the color of their choice by pressing on the rubber control switch.
Additional information availabe at
ThermalTake's
website. I dont know what price point this will come in at, but it could deffinitely get some attention at the next LAN Party you attend!