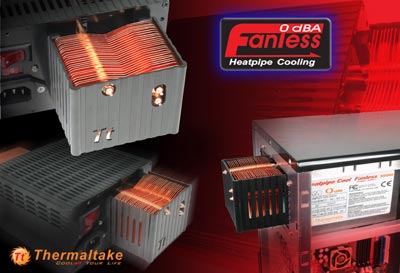 Thermaltake's latest Fanless Solutions, including Fanless 103 for CPU cooling, Fanless Power Supply Unit and Fanless VGA allows heat to be transferred effectively away from the source by utilizing Heatpipe Technology and dissipated through the high-density fins. Since there are no moving parts with these solutions, user can finally enjoy the silence of 0dba and performance achieved utilizing Heatpipe technology.

In order for users to truly benefit from a noiseless power supply unit, the unit itself cannot be restricted in terms of power output, reliability and thermal dissipation capability. Fanless PSU is capable of providing 350 watts of true power.

To achieve power output of this magnitude, Thermaltake utilized five copper heat pipes that are 6mm in diameter. Heat pipes permit heat to be transferred from internal aluminum chassis to external. Heat pipes that are extruding out of the chassis are soldered with high-density copper fins for heat dissipation.

The unique design, overall layout and the use of copper heat sink & heat pipes makes this the most dependable noiseless power supply available today.
For more info you can check out
ThermalTake
's website. While its a little unfortunate that its only 350watts, having a completely fanless power supply is pretty badass, considering some of us have to sit right next to our machines. And if you have a power supply fan, cpu fan, video fan, chipset fan, 4 (or more) case fans, all screaming along, every little bit helps!