Massively Multiplayer Online RPG's are still a huge market, with gamers across the globe eagerly picking up new titles, and expansions to older titles left and right. However, many MMO's seem to be stuck in the D&D worlds of dragons and magic. There have been a few Sci-Fi MMO's that have had varying degress of success, but there hasn't been much push from the industry to break the mold and come out with something really new, and unique. Until now anyway. Cryptic studios threw out much of the book on established MMO builders guide and went out of their way to make something that would break the MMO mold. About time someone did!
Of course, that's not to say that it worked, but how many EQ clones do we need to see? Will companies not rest until they make an EQ knock-off? I mean, what the hell? Anyway, City of Heroes is a Pay to Play MMO set in a persistant world. Players who choose to take the plunge create their account and login for a big bit of character creation. There are so many character creation variables that its mind boggling really. Deffinitely not something that you want to rush through. Now, having a lot of options in creating a character that is all your own is a nice thing, however the problem with this is that once you are done creating your character, thats the end. That is how your character will look... forever. No in-game items to purchase or find to modify your avatars appearance. And as everyone who has played a MMO can tell you, what you find visually appealing the day you made your character, may not hold up for the months or years that many people invest in those characters. Granted, this is something that COULD probably be fixed as a patch later on in the game. But at the moment, you need to choose wisely!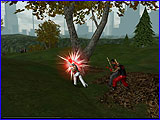 The gameplay of City of Heroes is pretty outstanding, if you dont mind the typical grind of all MMO's. And don't get me wrong, I have been a huge MMO fan since the early days of EQ when it was a two man show, with Ultima Online battling EQ for the hearts and minds of gamers everywhere. But in all MMO games the basic rule of gameplay when you factor out all the frills is a carrot chase by the gamer, for an inattainable goal. Always trying to get the next level, next spell, new gear, lather, rinse, repeat. And this is just as true with City of Heroes as it is for any other MMO. Now, it deffinitely does some things better then other MMO's. For example, there is almost NO downtime. Waiting 30 to 90 seconds can replenish most of your vital stats allowing you to continue your adventure. Also, there are no corpse retrievals. If you are killed in battle (after level 4) you are assessed an XP penalty. You loose X% of your exp and you have to regain it. Upon meeting your demise you can either wait as a corpse for another player to revive you (only practical if you are grouped with someone who can), or you can be revived at the nearest hospital, and run back to rejoin your mission or group.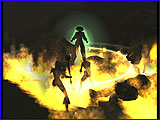 Missions are handed out from contacts that you will meet across the game world. You start with a lone contact, and as you do jobs for them they will introduce you to a new contact, who after you have worked with a bit will introduce you to another and so on and so forth. Any mission that you may take can be made into a group mission by the leader of the party you may join, which is very nice if you happen to stumble into a group on the way to a mission. Everyone can tag along and join in the fun and experience. Missions are broken down into two major groups. The hunt/kill missions, where you have to eliminate X number of a certian MOB in a specific zone, or the rescue type mission where you enter an instanced zone to "arrest" someone or save someone. While the missions are really the same (kill bad guys), the instanced zones are cool in that only you and or your group is in them doing the mission. So you dont have to worry about other people coming in and screwing up your quest.
Another issue that some people love and others hate is the absence of items. You won't find "uber loot" in City of Heroes. In fact you wont find loot period. The only two things that you get for doing anything are Prestige points (cash), and power enhancements. While this is good for people who hate to see someone running across a zone with items they will never be able to attain, it does seem to cut quite a bit from the carrot that developers dangle to keep gamers interested. While its been quite a few years since i've had the time to sit down for 14 hour marathon sessions of ANY MMO game, I did enjoy being able to collect loot, gear, and items to make my character what he was. And I find it a pretty serious detraction from the game to be locked into my characters look before I even get into the game.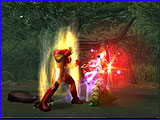 Characters can choose (at the time of creation) from multiple backgrounds, and then choose their class. Backgrounds are Science (The Science hero received his powers either through purposeful scientific inquiry or through some accident gone awry.), Mutant (The Mutant was born with his powers. His innate abilities appeared either at birth or puberty. A rare few did not develop until adulthood.), Magic (The magic hero receives his powers from a magical source. These abilities might stem from a mystical artifact that the hero has gained over the years - or perhaps the hero has mastered numerous spells that provide him with superhuman gifts.), Natural (A natural hero isn't "super" at all; his amazing talents are derived from intense training and innate abilities. He may have been guided since birth to become the physical specimen that he is, or perhaps some tragedy has driven him to seek perfection.), & Technology (A technological hero uses gadgets to battle the forces of evil. No one else has been able to duplicate the amazing technology that lies behind these gadgets.). Players next choose their "class" Blaster (ranged), Scrapper (melee), Tanker (tank/melee), Defender (buff/heal), Controler (mob control). And then its off to the races.
The graphics and audio complement the game play and the genre of the game quite nicely. It is very comic bookesq. And anyone who has spent their childhood reading their favorite super hero comics will feel right at home in the game world. The hud interface is extremely simple, and easy to utilize making the learning curve of taking control of your hero is well behind you by the time you finish the brief ingame tutorial.
While I really must commend the developers for putting together something that is a true break from the established MMO's, City of Heroes doesnt escape from the same nose to the grindstone approach where your sole purpose in playing is to level character endlessly in the hopes of getting that next power set, getting into that next zone etc. So, if you are violently opposed to that type of gameplay then CoH is not for you I fear. However, if you are familiar with the basic feel of a MMO and just want to try something new for a while, CoH might be worth a shot. However, the $15/mo fee to play might disuade the more casual gamers (price reduced if you purchase 3, 6, 9, 12 month subscriptions). In the end, I think that the breaks that they have made with prior MMO's will actually contribute to a short shelf life. Gamers will probably have a hard time finding entertainment here 3 or 6 months down the line.
There could be hope for the title however, in an already planned expansion for City of Heroes called City of Villians, which will introduce PvP, and allow players to follow a darker path as a villian, instead of the hero. Expected release is later this year.