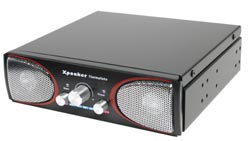 May 2004 – Taipei, TW Inspired by the concept of the recent phenomenon, LAN Party has provided many with ideas on improving the gaming environment which most gamers have to live with while attending. Throughout the year, Thermaltake Technology introduced several innovative product geared towards the gamers on-the-go. Today Thermaltake announces the release of Xpeaker(P/N#A1875), a mobile and compact speaker system.

"We realized that audio experience is one of the most important aspects when gaming" commented Vic Chen, Business Development Director at Thermaltake "it is hard work when you need to move today's speakers around all the time. Xpeaker can be fitted inside standard 5.25" drive bay.

Unique enclosure design allows the Xpeaker to provide full and rich sounds from its compact and small size.
Complete detailes/info at
ThermalTake
.