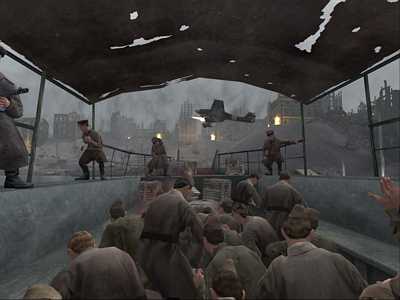 Seems that World War II is back in style with a vengeance, and has been for some time. From BF: 1942, Medal of Honor and free WWII Mods (like Day of Defeat) it's hard to imagine that there could possibly be anything missing to warrant another game of the same genre. But, none the less, Call of Duty (from Activision) stormed the market like the Allies at the beaches of Normandy.
Obviously, there are all kinds of historical references to draw upon to build a game from the WWII era. Also obvious is the fascination with the "Greatest Generation" which stood against NAZI Germany and its AXIS. Call of Duty seems to play on these issues in its game play with an acceptable storyline (which is to say its pretty sparse, but how much back story do you need to go blow stuff up?), and tried and true dynamite game play.
Throughout the game you take missions as an American, British, and Russian soldier (in that order) to put the smack down from the beginning, to the storming of Berlin itself. And lets be realistic, it does take quite a while to get tired of shooting Nazi's, doesn't it? Going into battle with you is a small platoon of allied NPC's that manage to make a show of being useful in combat. But you are still largely on your own to get the real heavy lifting done. At its best, the AI does help out in heavy firefights with suppression fire and general assault, and at its worst its just adding to the ambience with some gunfire in the distance. And they friendly AI isn't afraid to take a bullet for you, unfortunately they are just as likely to take your bullet as they randomly cross your line of fire. It's hard to not feel like the enemy AI always makes a point to ignore NPC characters and focus its attention in your direction. But such is the life of a WWII super soldier!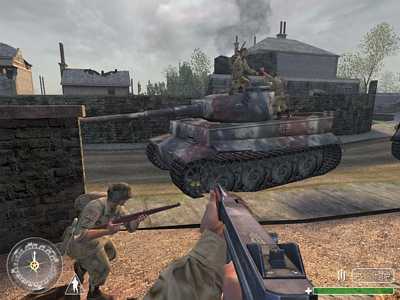 One of the greatest aspect of this game is the sound effects. They are incredibly well done, and they are loud as hell. Explosions, gunfire, and heavy equipment rumbling by can have you ducking for cover in your chair as bullets whiz by and ricochet off buildings as the enemy tries to take you down. Obviously no game could ever compare to the real hell of a battlefield, but Call of Duty does a damn fine job trying, and their efforts pay off as they draw you into the games reality throughout your mission. One small audio downfall is the voice-overs. Where do companies get these done? It's not horrible, but it could sure stand some improvement.
Graphics in Call of Duty are good, but certainly not ground breaking. The environments are well designed and maps flow well as you advance. Some of the missions require a great deal of walking back and forth across open expanses. So be sure to have your walking shoes with you, and plenty of ammo.
Unfortunately Call of Duty is on the short side when it comes to the single player campaign. Every gamer rates their game purchase differently, but I would say that you shouldn't expect more then about 10 hours worth of game play on the single player campaign. I would have liked to see about double that personally, but that could be splitting hairs. If you are a FPS/WWII fan, then Call of Duty is definitely worth adding to your collection. If you have played Medal of Honor (+ expansions), BF: 1942, Day of Defeat and other WWII era shooters and you can't figure out what the big deal is, then don't bother with COD. It's more of the same, it's an improvement, but still basically the same.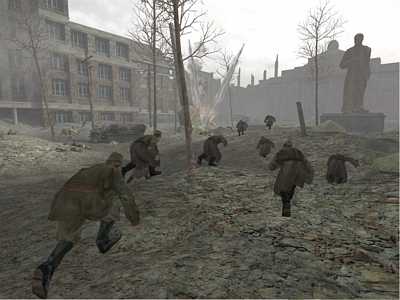 There is a MP aspect worth checking out which supports several team based modes of play. Search and Destroy (similar to CS) where one team tries to destroy one (or more) targets and the opposing team defends. The other is Retrieval which is almost like CTF, but there is only one object that both teams are trying to acquire and get back to their base. Then of course, there is always the standard DM.
Overall, Call of Duty is a great game where it counts, and any WWII / FPS buff you may know probably already has their copy. If you have been waiting to check it out, now is the time to start shopping for deals. If you can get it on sale, all the better. You'll be less likely to feel ripped off when you get to the end of the game.