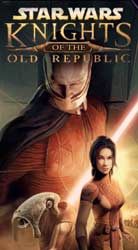 Starwars: Knights of the Old Republic
Set roughly four-thousand years before the movies, a few short years after the Mandalorian wars. Jedi are much more active in the day to day operations of the Republic, and guarding against the festering abyss of the dark-side. The Sith have amassed a fleet of staggering proportions, and its up to you to lead a small band of heros to turn their
evil plot aside, or is it?
KOTOR (Knights of the Old Republic) is an RPG that raises the bar for all future RPG's, and will doubtlessly be the measuring stick by which similar games will be measured. Some gamers might be scared off by a Lucas Arts game, but thankfully, Lucas Arts appears to have finally realized that their games tend to suck when done in-house. As with most other "good" games bearing the Lucas Arts logo, KOTOR was developed by an outside company by Bioware (makers of NWN among others). And Bioware came through in a big way with KOTOR.
The benefit of working on a Starwars game, licensed by Lucas Arts, as an outside company is that you have the benefit of unfettered access to the vast library of audio (music & sound effects) owned by Lucas, but are not as constrained in design. Allowing games to be developed outside the "box". The problem with KOTOR is that its hard to classify to strictly one genre. It can not be pigeon-holed. It's deffinitely an RPG, but its also an interactive movie/choose your adventure (if your old enough to remember those books), more so then any other RPG that I have ever played. You control the destiny of your character in how you handle yourself in your interactions with the environment. And befitting of any interactive movie, there are some plot twists that will leave your jaw hanging as the story unfolds.
Knights of the Old Republic is one of the most graphically stunning title that I have ever run across. Running this at a high resolution (if you have the horsepower) is mindblowing. The worlds are incredibly well done, and have the bustling, run-down feel, very lived in. Environments vary from the desert expanse of Tatooine to the vast forests of Kashyyk.
There are 8 worlds in all that you will make it to during the course of the game. The character design is wonderful with fluid range of movement, lifelike character features, and interactive environments. The only downside to these stunning graphics is that it comes with a high hardware cost, but we'll cover that towards the end.
Game play in KOTOR is second to none, and at times has the feel of a TPS (third person shooter), but KOTOR is deffinitely more engrossing then any other RPG that I have picked up. Even NeverWinter Nights didn't grab me as quickly and completely as Knights did. I think that part of the added immersion of KOTOR is due to the close camera view that you have on your party. You are not 100' above the party, watching little specs fight tusken raiders or what not. You're right in the thick of the action directly behind and slightly above your characters head. Bringing you into the action, and interaction with npc's and the environment itself. In now typical RPG style, you can pause the game at will and que up actions that you wish your
party to execute when you un-pause the game. You can have up to 3 people in the party at any given time (including your character). Toggling between your party members is quick and easy, the 'tab' key by default will move to the next party member, and if your more of a point and clicker, there are small character icons on the lower left of the screen which you can use to select the party member you want. You can que up to 4 actions per character and can spin the camera 360 degrees around any of the 3 party members to get the best view possible of combat.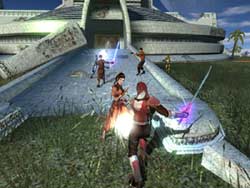 As luck would have it, early in the game you discover that your character is force sensative which leads you to the Jedi council on Dantooine where you begin your training. And this is where the story really starts to get good. In true Starwars fashion, as soon as you complete your training the council sends you and your group off to save the galaxy!
You can travel to the planets in any order on your ship, the Ebon Hawk, and the order in which you tackle them, will slightly modify the story line and course of events. But the biggest affect on the story progression is your choice or "Light" or "Dark" side behavior in your npc interactions. Wether you will aspire to rule the galaxy as an all powerful Sith Lord, or save the
galaxy and defend the Republic is entirely up to you.
The KOTOR controls translate incredibly well to PC, and do not require a controller in any way, shape, or form. In fact, I think that it would be easier to play with the benefit of a keyboard. Your default movement is using the mouse (by clicking and holding both mouse1 & mouse2). You can also use a slightly modified awsd setup. But the mouse works suprisingly well, so give it a shot. Pausing the game periodically needs to become second nature, because trying to control three independant characters while they are going toe to toe with a Dark Jedi will get you killed before you know it. The NPC AI is quite good however, and you can set general 'script' behavior to dictate the npc's base combat behavior/support roles. My only real gripe with KOTOR and the AI is that very occasionally on or your party members will get lost. When this happens you have to toggle to that character and walk them where they need to go. Why this happens, I have no idea. But it wasn't a constant problem, and might have sprung up
half a dozen times or so throughout the game. But considering that the game spans about 40 hours, thats not too bad.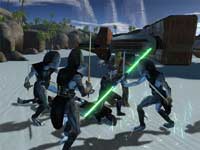 During your adventure, you will auto-map the areas for future reference. You might also stumble across terminals that will allow you to upload the entire areas map to your datapad, providing you have the right equipment and the proper computer skills. The map toggle (hotkey = m) is something to get familiar with early on. Important areas will be highlighted with a clickable dot that you can select when you're trying to find your way back to a specific shop/vendor/room for a quest.
Character creation is very straight forward when you begin the game. Identical to almost any other recent RPG that you might have played (NWN, BG, BGII, etc). Combat, defence, saving throws and such are all handled by dice rolls (like AD&D) and a hit/miss is determined by your base stats + modifiers/bonuses and compared with the result of the dice roll. Of course, all this is done quickly behind the scenes. This does mean that you wont be directly in control of your character as they swing and throw their light saber about.
The entire Knights of the Old Republic adventure will probably take around 40 hours. My time to completion was almost 40 exactly. This will vary depending on how many side quests you take and see through to completion of course, and you could probably shave 5 to 10 hours off the total time played if you abandon all the side quests and just drive the main story forward. But, one of the big draws for me of KOTOR was the incredible level of immersion. The voice acting is incredible! And once you get the story rolling, it doesn't let you go. I found myself staying up late, getting up early, and ducking into the office to complete just one more quest,
much to the dismay of my wife.
The absence of multiplayer options is a bit of a disapointment, but the possibility of additional modules/expansions on this incredible title do leave some hope that you wont be out of the action for too long. And, the replay value is deffinitely there as you can start over and follow the darker (or lighter) path after beating one or the other.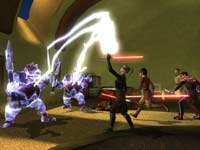 Overall, without any hesitancy, I would say that Starwars Knights of the Old Republic is a "Must Have" game of 2003, and very likely should be awarded the overall "Game of the Year" for PC. This is the one game that picked me up early and didn't let me go until I had completed it. And even after going through the first time, I find myself lingering on the very few side quests that I didn't complete, and questioning how the story might have turned out if I had been swayed to the dark side. I can say with certianty however, that the ending, regardless of your light or dark side affiliation, is very befitting of a Starwars story. Any RPG or Starwars fan is doing themselves a great GREAT dis-service by not having this game in their library.
Lastly, be aware of the requirements of this title! It's on 4 CD's and requires about 4 GIGs of space installed.
Recomended
specs are 1.6GHZ AMD or Intel CPU, ATI 9200 or better / GF4 or better, 512mb Ram or more.