Command and Conquer has been a staple of Real Time Strategy fans since the beginning of the genre. WestWood Studios captured gamers with good game play, great graphics, and an intense gaming experience from the beginning. And C&C Generals doesn't disapoint exactly, but it does seem to be apparent that WestWood was swallowed up by the swolen mass that is "EA".
Generals offers a triad of nations to the player to choose from. Your options include the US, China, and the GLA (read "terrorist group"). Each nation has its own technology tree and units to deploy. Thankfully, game balance is not too far off and no single nation comes to the table with a vast superiority over any other.
One of the first things you notice when you fire up Generals and play a "skirmish" is that the Tech Trees have been stripped down. Gone are the massive, in depth chains of buildings and units that you can train and deploy. That was always part of the draw of RTS for me, personally. Building up a diverse army of various vehicles and air/ground units to launch massive attacks against my enemies.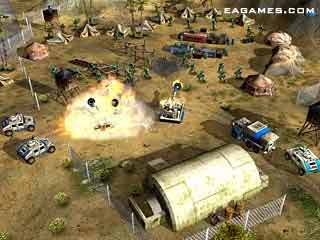 Now, you can still build up pretty monsterous armies, but your limited to a small choice of particular units. This does vary depending on which nation you play, while China and the US have what I consider to be pitifully few options, the GLA has a semi-respectable technology tree going for it. The US and China really get two ground troop options, infantry and rocketeer compared to the GLA's 5 non unique ground troops. Now, each group also has a Unique character that you can train (one of), and the US gets snipers and China gets Hackers, but thats it.
Vehicles also seem pretty limited, considering the vast history of RTS games that have come before to draw from. The US gets two tanks, a tomahawk launcher and 2 humvee's (one ambulance one troop transport). China and the GLA have quite a bit more going when it comes to ground assault with approx. 6 tanks for China and a troop transport and 6 Ground assault vehicles for the GLA not including the bomb truck and radar van.
But the clincher is in the buildings. Buildings have very little upgrade potential. Once they are built your pretty much done with them. Some buildings do offer an upgrade or two, but nothing like most RTS fans will remember from StarCraft, WarCraftII, Age of Empires, or Empire Earth.
However, the most disgraceful aspect of Generals is as of yet still not mentioned in this review. The most unforgivable error on EA's part for this game is the absolute cluster *$#% involved in getting online to play Multi-Player. If your behind a router on a home network then expect to be extremely frustrated by Generals when you try to get online to play. Generals seems to have an inability to forward packets to the right machine if your behind a router. After spending hours searching online I have found no definite fix, there is a readme in the patch text that explains that there are ports that need to be opened on the router etc, but even with all these suggestions implemented on my router, I still get disconnected about 60% of the time when trying to start a game online. And the only way to know for sure is to TRY to join a game. If you get into a room, and start a game and watch the connection progress, you will notice that you will usually fail to connect to at least one player in the group, and if that happens, everyone gets kicked out to the entry MP screen. Setting your primary machine as the "DMZ" host could solve some of your connection problems, but I wouldnt recomend that as a general rule of thumb, since toggling the DMZ will essentially place the machine specified out in FRONT of your firewall/router. Not to mention the fact that even if your machine and router are configured perfectly, if anyone in the group of players your trying to start a game with has a configuration issue, you still wont be able to get into a game if they are one of the players.
Now, as many things as there are that could be better in Generals, its still a fun game to play. The single player campaigns for all three groups are fun, and Skirmish mode is a good time to just test your skills against computer opponents. If your bread and butter is Online Play for RTS, then I would suggest you either find a couple people that CAN connect to, and only play online with them to avoid the pain of a pickup game with its disconnection issues, or stick with games that actually WORK online like Red alert II, StarCraft, Empire Earth or others.