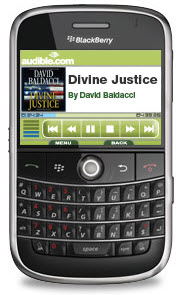 Amazon's Audible.com Blackberry client is now available for download via App World. For a limited time, users can download David Baldacci's bestselling thriller Divine Justice, narrated by Ron McLarty.
The Audible application provides Blackberry users the ability to shop, download, and listen to over 75,000 titles. That should definitely help to keep you occupied while traveling or between meetings all from the device you're never without.
Key Features Include:
- Stream audio samples for all titles
- Download or stream purchased titles directly to your BB
- Toggle between WiFi & Cellular connection (if available)
Audible for BB v1.4.2 supports the Tour, Curve, Pearl, and Bold. It can be downloaded
here
.