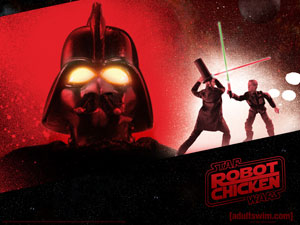 So the guys at
Robot Chicken
have a 30 minute Star Wars special coming up this Sunday, June 17th at 10:00 PM. It should be outstanding. Check the link above for a selection of trailers, clips, and wallpapers to get you through the rest of the week.
For your viewing pleasure, if you have not already seen it, I highly recommend you navigate your browser over to this
Google Video
. Any Star Wars fan will appreciate it I think.
On an un-related note, I just found my way to this Ryan vs Dorkman
lightsaber battle
. Another good time waster if you have 10 minutes.
Very impressive work though.